November's message from the Principal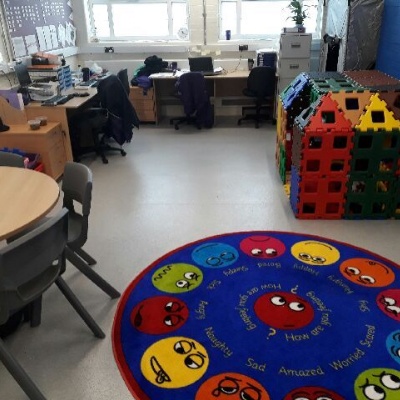 Update from Matthew of latest news
Discovery, although now up to capacity for children and with 70 dedicated staff employed is still evolving and improving. We keep adding to our provision and ensuring we do everything possible to ensure our learners grow academically and socially in a safe and stimulating environment.
Over the past half term we have introduced:
Post 16 provision – 9 learners work with 2 Post 16 specialist teachers, their subject specialist teachers and support staff to enhance their future career choices
A Compassionate schools room – this enables Leanne and Danni to have an accessible base for children. This also contains a private space for their sessions.
Hoodies – we have introduced black hoodies with the school logo in response to pupil and parent requests for another outer layer other than the coat. Staff also wear them – a good way to show we are all part of one community.
Daily tweets – follow us at @MATDiscovery_ac – we tweet daily and most of the innovations mentioned here will have a photo too.
Exam centre – taken for granted in all secondary schools but not if you are new. We are now accredited to run all exams, both paper based and online.
Lunch clubs – we now have lunch clubs running each day; Messy play, Board Games, Lego, Art and Music through the week. This will be expanded further next half term.
Y9 horticulture – one of our Y9 classes work with the team from the "Secret Garden" each week to develop their practical skills and learn through applying subject knowledge to real life situations.
KS 2 Prince William Award – our Year 5 and 6s (age 9-11) spend Tuesday afternoons developing their teamwork and social skills with an instructor from the PWA. They had a tough start but are now growing in confidence and building trust and relationships.
IDL – The IDL cloud has enabled us to boost Literacy skills in a variety of learners in a way that suits their learning style.
Kenya – we have developed our links with Rare Gem Talent School in Kenya by exchanging gifts; we will start skyping in November.
We had 5 very successful events in the first half term too – MacMillan Coffee, Fire Awareness Talks, Masterchef Finalist visit, Parents and Carers' Evening and a Falconry /Owl display.
Keep a look out on Twitter for innovations, development and fun next half term
Matthew
30 10 17