5 Years of Discovery Academy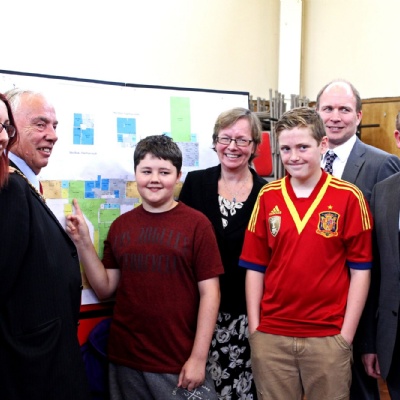 Whilst Discovery first opened its doors to students on 14th September 2015, much was on the go before then. Matthew started his role on 13th April 2015 with no children, no staff and 10% of the current building. The summer term was both busy and exciting as we prepared to open.
Before opening a deputy principal, business manager, site manager, office manager and family footings lead all started employment. Classroom and support staff were recruited to start on 1st September. A target of 25 learners was far exceeded and 34 children and young people were admitted to the academy. This involved home visits and recording what a good day looked like, what to avoid and individuals strengths and interests. On day 1 we had 26 staff, working in four classrooms in a temporary setting on the other side of the site. Many of the staff and students are still with us five years later.
Parents and carers were genuinely excited about what lay ahead, but also concerned that it was a brand new setting. As one parent reminds me "We started our children with you in blind faith". We held a number of 1-1 meetings with parents and also a coffee morning at the Newtown Centre in Nuneaton. This was attended by the mayor and MP, Marcus Jones.
We liaised with WCC and Wates who were building the new school.
We set up a transition day in July where everybody was able to see the new layout more clearly and get to meet their team.
Staff undertook the necessary training and team work.
Most importantly, some may say, we passed our "Readiness to Open" inspection visits and scrutiny. It was a great first day and we haven't looked back since, taking on the new build in two stages of January and April 2016 with an official opening on 22nd June that year. All Staff (past and present), LAB members (Governors), Parents, Carers, Children, Young People, Outside Experts and Leaders have made a real difference to the lives of our students and their families. The next 5 years promise to be just as exciting and rewarding.